Vayots Dzor area is one of the most breathtaking areas in Armenia because of its  fascinating, rocky beauty, its nature and wildlife,  a number of old and amazing churches and monasteries, and its small, organic vineyards. Today not many people live in Vayots Dzor, but it  is one of the earliest populated areas in the world !
Join me for a day or more sight-seeing in this glorious part of Armenia and see, drink and taste many amazing things that most tourists miss.
Many tourists on their way from Yerevan to Syunik Marz make a single stop at the famous Noravank monastery complex, where the main church Burtelashen was designed and built in 13th century by Armenia's talented sculptor and miniaturist Momik. The Monastery, with its steep steps surrounding the entrance, was Momik's last  work. This church is certainly worth a visit–and lies at the end of a magnificent gorge where botanists and ornithologists from all over the world find things they have never seen before. But there is so much more in Vayots Dzor….
Much less well known than Norovank is the small monastery of St. Astvatsatsin in Areni village. We will stop for a moment or two to see some carved stones from pagan times, and other khachkars from 14-17 cc. This church was also designed and built by Momik in 1321.
Nobody surely should skip the cave Areni 1, which has proven to be a treasure trove of Copper Age artifacts including the oldest shoe in the world, an ancient brain, and evidence of one of the oldest wineries in the world ! First investigated by archaeologists in 2007, the ever-giving Areni caves consist of a number of burial sites dating back to 5000 – 4000 BCE .  Among the artifacts the Armenian-Irish excavation team discovered were a series of clay pots, each containing the skull of a child. Remarkably, one of these skulls still held a piece of well-preserved brain tissue, making it the oldest example of the Neolithic brain ever discovered. But the amazing finds didn't stop there. In 2010, excavators discovered a sewn leather shoe dating back to the Copper Age. While sandals and other primitive footwear have been discovered from era's farther back, the foot wrap is the oldest example of its kind in existence. Shortly after finding the ancient footwear, the researchers then discovered what seemed to be an ancient wine press–one of the oldest in the world.
We can stop for a wine-tasting and a delicious meal or snack at the Trinity Canyon or Old Bridge winery. These vineyards are now producing award-winning organic wines from the ancient Areni Noir grape– a varietal that nearly died out in the Soviet era, when Armenians were told they should make cognac, not wine.
Late in the afternoon, we can turn off  the beaten track and see Bezoar goats registered in the Red book ! Sometimes it is possible to see bears too.
On the way to Lake Sevan, we can drive high into the mountains and see Orbelian's Caravanserai also known as Selim Caravanserai. It was built along the Vardenyats Mountain Pass (also known as the Selim Mountain Pass) in 1332, on the Silck road, by prince Chesar Orbelian to accommodate weary travelers and their animals as they crossed from, or into, the mountainous Vayots Dzor region. Located at the southern side of Vardenyats Mountain Pass at a height of 2410 meters above sea level, Orbelian's Caravanserai is the best preserved caravanserai in all Armenia, and the views from there are breath-taking.
Hikers may like to park the car and trek with me to fortress Smbataberd. It is likely that Smbataberd was founded during the 5th century, but was better established and heavily fortified during the 9th to 10th centuries.
The fortress received water from an underground clay pipe leading from the monastery of Tsakhats Kar. Local legend tells that Smbataberd was captured by the Seljuq Turks in a similar manner to the fortress of Proshaberd. A thirsty horse was used to sniff out the pipeline so that the Turks could cut off the water supply to the fortress.
A good place to eat our packed snacks and relax could be on the way to the village of Sers–beautiful scenery and the sense that you are seeing sights that are hidden from most tourists.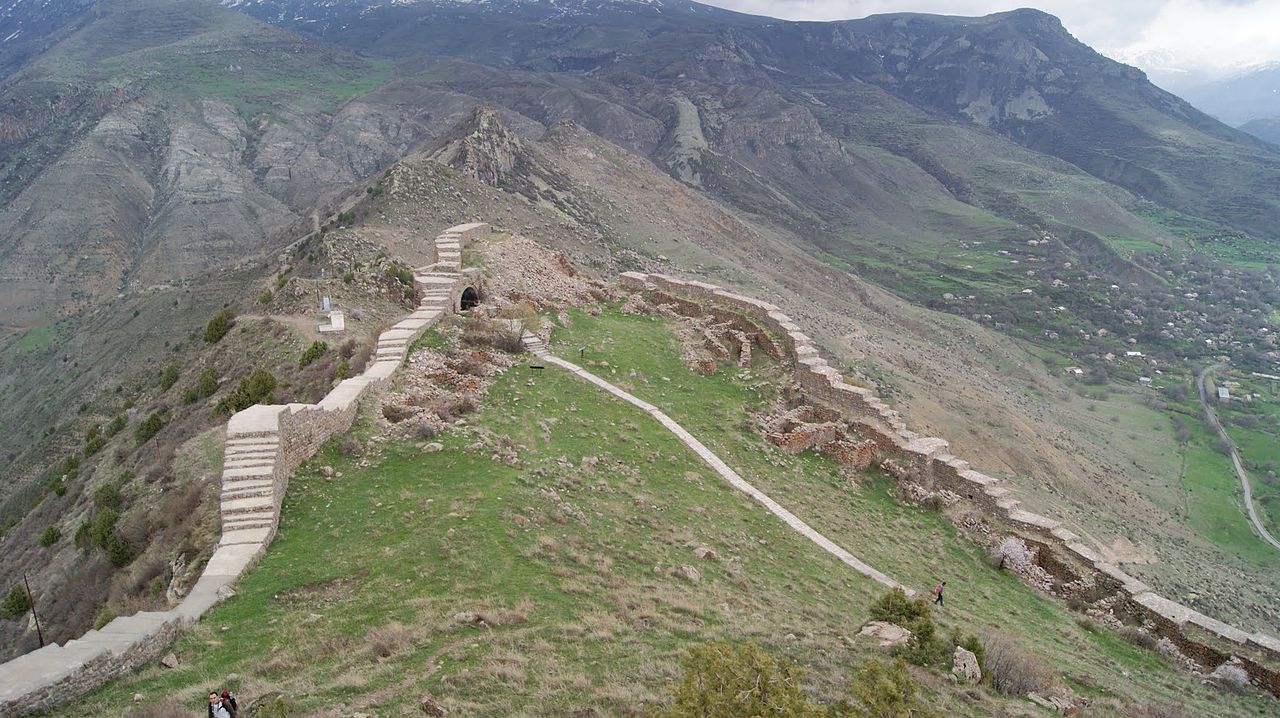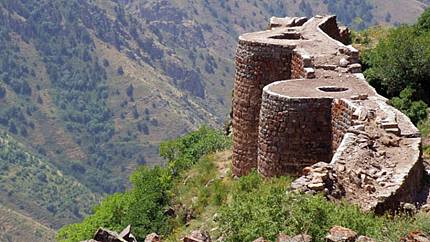 Depending on the time of year, perhaps we will stop to pick apricots and admire volcanic rock formations along the way to Jermuk. In Jermuk spa town, we will visit the gallery and drink mineral waters that bubble from the earth at a range of different temperatures. Walk around the lake and pose beside giant busts of Armenia's great writers and artists. Enjoy an Armenian coffee on the floating cafe–or strip off and take a dip in the famous hot pools. We will visit Jermuk's Waterfall, 
and take a ride on the funicular to get great views of this beautiful region. You can pick wildflowers and breathe the clear mountain air. If you would like to have a spa treatment at one of Jermuk's luxury hotels, let me know–I will make your appointment. The town has great restaurants, but you may like to order a picnic lunch to enjoy by the river. My wife will be happy to pack a picnic for us to enjoy.
To tour Vayots Dzor, I can pick you up from Yerevan, or from Lake Sevan, or we can start our tour from Syunik Marz. Email me at goristours@gmail.com or call 374 94 002322 to arrange the tour that most interests you.